A Four-Year-Old Lost His Stuffed Animal, and Cops Bought Him a New One
Last fall, a four-year-old kid from Brooklyn named Will Ketcher was driving with his family through Rhode Island.  And he was hanging his favorite stuffed animal out the window when he DROPPED it.
They were on the interstate, and his parents knew it was too dangerous to go back and pick it up.  But he was pretty devastated.  So they told him to write a letter to the highway patrol when they got home.
His letter said the stuffed animal's name was Roger, and that he was a cheetah.  His parents included the approximate location on I-95.  And he even drew a picture of Roger so they'd know what he looked like.
A cop named Lawens Fevrier got the letter.  And he thought of how sad his own sons would be if it happened to them.  So he actually DID send someone out to look for it on the side of the road.
Unfortunately, they never found it.  But several months after this all started, Will got a letter from the highway patrol saying they were sorry they couldn't find him.  And it also said that while they were looking, they met ANOTHER cheetah who needed a home.  And along with the letter was a brand new stuffed cheetah that he ended up naming "Rhody."
Will's parents say they never expected the cops to respond to their letter.  And the whole thing was a great reminder that even with all the bad stuff in the world, there are still good people out there.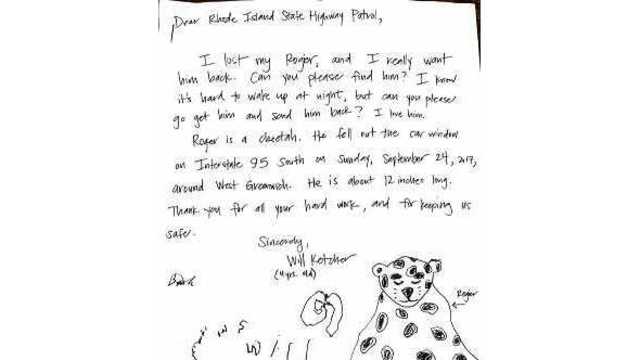 (ABC7NY)
---