A Beloved UPS Driver Retired This Week, So His Customers Dressed Up as Him for Halloween
November 2, 2018 9:26AM PDT
A UPS delivery guy in Palos Verdes, California named Jerry Bollinger retired this week after 40 years on the job.  (Palos Verdes is on the coast, just south of L.A.)  And the people on his route love him so much, check out what they did . . .
About six months ago, he started telling customers that his last day would be October 31st.  And there's an office on his route where the employees REALLY get into their Halloween costumes each year.
So as soon as he walked out, they all decided to dress as HIM for Halloween.
They used his picture and made cardboard cutouts of his face to use as masks.  And they all bought UPS hats and jackets, or made their own.  It started with just one office.  But then word got out, and a bunch of his other customers wanted in on it too.
For some reason, his retirement date got moved up a day to October 30th, so they shifted the date.  And when he showed up for his last delivery on Tuesday, they were outside waiting for him and cheering his name.
He says he's not sure what his plans are now that he's retired.  But for now, he's just relieved he doesn't have to deal with holiday deliveries for the first time in 40 years.
They also did a retirement fundraiser for him, and raised about $4,500.  He says he was "flabbergasted" by the whole thing.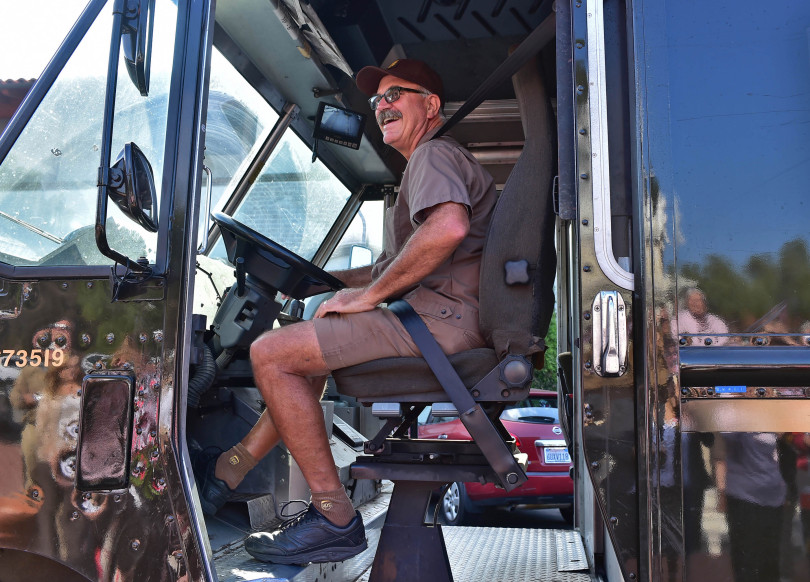 ---